From the choice of lightweight, innovative materials to its advanced aerodynamic design, SVR is our most powerful F-TYPE yet. The 5.0-liter V8 unit's twin vortex supercharger reduces drag and surge for responsive performance. Hold tight - it will take you from 0-60 mph in just 3.5 seconds and on to a top speed of 200 mph in coupe form
.3

UNIQUE SVR INTERIOR

From quilted performance seats offering comfort and support to ultra-modern finishes that create a sense of total luxury, the interior of the F-TYPE SVR is truly one of a kind.
EVERY DETAIL DELIVERS
 Discover the ultimate F-TYPE. SVR is lighter and faster - with reconfigured aerodynamics boosting grip, and Jaguar's All Wheel Drive technology ensuring maximum traction at all times. Every inch optimized for pulse racing performance that is pure Jaguar.

LIGHTWEIGHT TECHNOLOGIES
Weight is the enemy of performance. So we designed SVR to be as lean as possible. Its lightweight Titanium and Inconel
®
exhaust system saves significant weight, while the striking 20 inch forged alloy wheels provide a 30 lb weight reduction over standard F-TYPE wheels. Each redesigned rear suspension knuckle is lighter than conventional knuckles and the optional Carbon Ceramic Matrix Braking system saves 46 lbs of unsprung weight over the standard F-TYPE. Every pound saved gives you more rapid acceleration, more agile handling and sharper braking.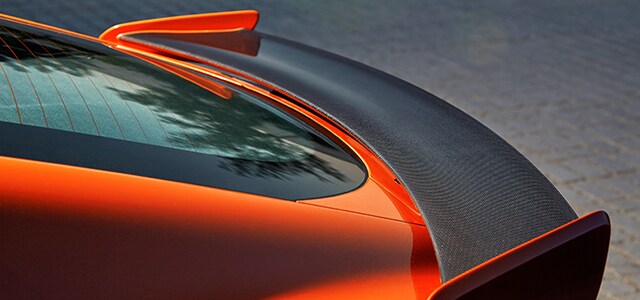 AERODYNAMICS
SVR's active aerodynamic carbon fiber rear spoiler optimizes the speed and performance of F-TYPE SVR. The wing is wider and more elevated, enabling it to act over the whole width of the car. When deployed, it gives a drag coefficient reduction of 2.5 percent and a lift coefficient reduction of 15 percent. Unique Front Bumper with large intakes maximizes airflow through the engine bay and wheel arches. The smooth front underfloor and rear venturi reduces drag and accelerates airflow.

POWERTRAIN TECHNOLOGY
The 5.0 liter V8 engine in F-TYPE SVR is the pinnacle of power, remapped to deliver up to an astonishing 575 hp and 516 lb-ft of torque. The Intelligent Driveline Dynamics system works together with the Electronic Active Differential helping to increase traction and stability, giving full rein to the towering performance of F-TYPE SVR
.4